For better or worse the new Physician Sunshine Act, a provision of the Affordable Care Act (aka Obamacare) is rapidly approaching on August 1, 2013. If you do not sell to physicians you may be unaware of the new law and its regulations. This blog is designed to familiarize you with an overview of the law and its implications.
It is not meant to be an all-encompassing treatise. For that you should read the law and discuss it with legal counsel and in-house compliance experts.
The Law in Brief!
The Sunshine Act requires companies that make drugs, medical devices and biological medicines to report payments and items of value that are given to physicians and teaching hospitals. The specifics of the law have been outlined in the Federal Register1 and discussed by several others. Some examples are AdvaMed2, New England Journal of Medicine3 and American Medical Association4 to name a few.
The law also requires that manufacturers and group purchasing organizations (GPOs) must report certain ownership interests by physicians and their immediate family.
The law states that:
Any prescription drug or device manufacturer operating in the U.S. must report payments to physicians and teaching hospitals to the Center for Medicare and Medicaid Services (CMS). All physician disclosure data will then be posted on a public website.
Physicians are defined as all doctors of medicine, osteopathy, podiatry, optometry, dentistry and chiropractic medicine.
A teaching hospital is any hospital that receives payment from Medicare for graduate medical education.
Any payments or transfers of value worth at least $10.00 and transactions of less than $10.00 if they total $100.00 or more in a calendar year must be reported.
The types of items that must be reported are honorariums, gifts, speaking fees, travel and lodging, food and beverage, entertainment, parking, etc. CMS can levy $10,000 fines on manufacturers for failing to report gifts. The penalty climbs to $100,000 when a manufacturer is found to have knowingly omitted payment information.
Impetus
Interest in public disclosure of payments and items of value given to physicians and teaching hospitals was stimulated because of the financial relationships that often exist between physicians and industry; to prevent potential future conflicts of interest; to preserve clinical integrity and therefore patient care and to potentially decrease the cost of patient care.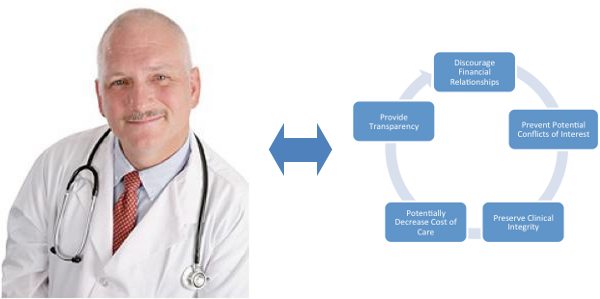 The law is not trying to stop valid interactions between physicians and industry that lead to innovation, discovery and improvement in patient care but rather it is striving to provide transparency in all of these types of relationships.
There are many published articles that support the act. For example, in 2007 Campbell et al published a study in which they reported that 94% of U.S. physicians had a relationship with industry, 83% had received gifts and 28% received payments for professional services such as consulting or research participation.5 Sudarsky et al has an article in press in which their conclusion is that "sales representative presence was associated with increased use of the representative company's stents during percutaneous coronary interventions."6 Whether you agree or disagree with the studies and/or their findings the fact remains that they were published in peer review journals and the U.S. government has acted upon them.
The end result is that very soon patients, consumers, journal editors, manufacturers, physicians or anyone can review by physician what payments were made and by which organization.
Key Dates
August 1 through December 31, 2013: Manufacturers are required to collect and track payments, transfer and ownership information.
January 1, 2014: CMS is expected to start their physician portal. This will allow those physicians that sign–up to receive a notice of when their report will be available for their review. This portal will also be the vehicle for physicians that wish to dispute the accuracy of their report to contact the manufacturers and GPOs and attempt to reduce it.
March 31, 2014: Manufactures and GPOs are required to report data for 2013 to CMS.
June 2014: CMS will provide physicians with access to their report for the prior calendar year. Physicians may use this report to seek correction or modification by contacting the manufacturer or GPO.
September 2014: CMS will release all or some of the data via a public website.
Good or Bad? You Decide!
Is this a good law or a ridiculous law? As a consumer I really don't care if a company brings in lunch for an entire physician's office in order to get 10-15 minutes of the physicians time while he/she eats. As a consultant I do care, however, if the office manager tells me that I must bring food for the entire office in order to see the physician.
As a physician I might be insulted to think that my government believes that a few pens and pads and an occasional lunch or dinner could influence my prescription writing habits or equipment purchase decisions.
As an ex-Vice President of Sales & Marketing for a MedTech manufacturer, a former hospital CEO and in working with many medical clients we have all seen examples where we know competitors were spending a lot of money to influence physician behavior and in essence buy their business. We also know of certain physicians that expected lavish dinners, tickets to sporting events or the theatre because it was a common business practice. While many would refuse these amenities and be offended by these tactics others expected it. This made it a conundrum for everyone. On the other hand I know from personal experience the value that a sales representative brings to every client encounter. Countless times I have witnessed physicians that were happy to be introduced to peers, be provided with peer review published articles or listen to a new approach or product. Physicians take input from sales representatives, nurses, peers and others and make their own informed decisions. If they are biased they are biased in their beliefs for what is best for their patient.
What's interesting about the Sunshine Law is that providers are required to publish their financial connections to physicians but not insurance companies or government entities. Why is the connection to industry "suspect" but the control exerted by insurance companies or government entities (i.e. Medicare) is not? If one accepts the premise that money impacts physician decision making then isn't this a "Wag the Dog" situation? Certainly the money from the medical industry pales in comparison to the funds expended from insurance companies and Medicare. The idea that licensed, trained physicians, who have taken an oath "to do no harm" would make medical decisions solely based on dinners from a pharmaceutical company or to others, if true, implies that these same physicians would make medical decisions based on insurance reimbursement rates or government mandates.
Conclusion
One thing is certain, the Sunshine law will add to the cost structure for device manufacturers and pharmaceutical companies. Each organization has added or expanded their compliance departments; hired outside counsel to thoroughly understand the rules, regulations and penalties; added accounting personnel or out-sourced the expense tracking and reporting required and incurred a plethora of expenses in educating their sales organization on what they can and cannot do and in preparing information that can be given to physicians and others that may not understand the new law and its regulations. Whether these added costs will be offset by fewer dinners, honorariums' etc. is yet to be seen.
Only time will tell if this law is necessary or an unnecessary intrusion. In the meantime be aware of the law and seek legal guidance to conform. The penalties are severe and in this situation ignorance is not bliss.
References:
1. www.federalregister.gov/topics/sunshine-act
2. advamed.org/issues/16/physician-payments-sunshine-law
3. Agrawal S, Brennan N, Budetti P. The Sunshine Act-Effects on Physicians. N Engl Med 2013; 368:2054-2057
4. http://www.ama-assn.org/ama/pub/advocacy/topics/sunshine-act-and-physician-financial-transparency-reports.page
5. Campbell EG, Gruen RL, Mountfod J, Miller LG, Cleary PD, Blumenthal D. A national survey of physician-industry relationships. N Engl J Med 2007; 356:1742-1750 Free Full text-Web of Science-Medline.
6. Sudarsky D, Charania J, Inman A, D'Alfonso S, Lavi S. The Impact of industry representative's visits on utilization of coronary stents. Am Heart J.2013 In Press.
Image Credit: Google Images