Is Strategic Procurement, Strategic Sourcing, Materials Management or Purchasing a call point for you? If it is, how well do you know their business language? Being able to communicate effectively with buyers using their vernacular is paramount to establishing credibility, having meaningful conversations and creating a win-win relationship.
Here are some definitions and explanations that may be a quick refresher for some or provide some new insight for others.
Buying Green: A product or service that reduces the impact on human health or the environment when compared with competitive products or services. Examples are those that contain recycled materials, minimize waste, conserve energy or water, and reduce the number of toxics either disposed of or consumed.
Agreement: A formal written document entered into at the end of the procurement
process.
Buying Team: A group of individuals that offer ideas, arguments, agreement and a forum to discuss the full complement of needs for a product or a Within a hospital this is generally done within a committee structure.
Delivery Terms: Conditions in a contract relating to freight charges, place of delivery, time of delivery or method of transportation.
Demurrage Charge: The payment required and made for the delay of a ship, railroad, car or truck beyond a specified time for loading and unloading.
O.B. (Free on Board): Contractual terms between a buyer and a seller that define where title transfer takes place.
FOB Origin: A form of pricing in which the seller quotes prices from the point of Free-on-board (F.O.B.) means it is the buyer's responsibility to select the mode of transport.
FOB Destination: A shipping term that indicates the seller must pay the freight cost to the destination. Title for the goods delivered does not pass until the merchandise reaches its destination. This means the seller assumes all risks for loss, or damage while the goods are in transit, except for the liability of the freight.
Request for Information (RFI): A process from a hospital to collect written information about the capabilities of various suppliers.
Request for Proposal (RFP): A solicitation from a hospital notifying interested parties that funds are available for selected or specified projects, research, or other undertakings.
Request for Quotation (RFQ): A formal document transmitted to a potential supplier that requests price and delivery terms on a specific item or set of items. A supplier responds to an RFQ with a quotation.
Request for Solicitation (RFx):

A generic term for a competitive solicitation. The solicitation method used will be determined by the dollar amount of the requested item and the complexity of the project/product. Different types of solicitations include Request for Quote (RFQ), Request for Proposal (RFP), Invitation to Bid (ITB) and Request for Information (RFI).
Single Source Purchase:

A purchase of goods or services which is clearly and legitimately limited to a single source of supply.
Useful Life:

The actual life of a device because of obsolescence or because it is no longer adequate due to improvements in technology.
Vendor Scorecard: A scorecard that keeps track of all supplier performance metrics. It can be associated with various categories, depending on the supplier's role within the hospital or healthcare facility. Displayed are the suppliers name and their performance ratings. The scorecard compares a supplier's current assessment results to previous results or to the results of other suppliers. Also called a Supplier Scorecard.
Volume Pricing:

The reduction in the unit price offered for large volume contracts.
Parting Thoughts
Understanding the language of procurement improves your business acumen, provides immediate credibility and allows you to have better conversations with existing and potential customers.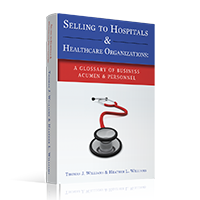 "Selling to Hospitals & Healthcare Organizations: A Glossary of Business Acumen & Personnel Available on Amazon and Kindle.