We all know what constitutes a value proposition or statement.  It's a concise, clear and compelling message that conveys the benefit a product, service or solution provides the buyer's organization.  In other word, it's a promise or pledge made by the seller to convey value to the buyer.  But this is where our understanding gets clouded.  There is a difference between marketing's version of a value proposition and the flexibility required by sales representatives meeting with different buyers at several levels of target organizations.  Neither is wrong—just different.
More often than not marketing is focused on a single message that draws attention and can serve as a platform for buyer-seller discussion.  The sales team, however, is focused on differentiating their solution from competitive offerings and internal default options often thought of as the "status quo."  Sales representatives don't need a slogan, motto or infomercial.  They are looking to marry insight into their customer's needs with product capabilities that resonate as compelling and documentable solutions that stand apart from other viable alternatives.
Don't think of a sales value message as a sentence or two that can be dusted off and rolled out for any buyer. Consider growing a "tree" with each limb slightly different from the next.  The lower limbs are focused on specialists and technical buyers.  The middle limbs are pruned for department heads and daily users of the solution.  The upper growth reflects the needs and values of senior buyers and executives.
It may seem like a daunting task…but this is one of the most important functions sellers perform: they connect their product/solution to their customer's needs in ways that resonate and convey urgency.  Since different "personas" in the buying organization are charged with different responsibilities, sellers must become well versed in the broader landscape of values that each buying "persona" brings to meetings, conversations, presentations and phone calls.  
Five Steps in Crafting a Value Message
Sellers may consider these five steps in designing their "value tree."

Discover Needs. Discover your customer's needs at three levels of the buying organization: technical specialists, users and executives.  Map all stakeholders in the buying process to one of the three levels. Identify their priorities.  Explore how each stakeholder defines and measures the solution.  Think about each of the four boxes below as possible limbs on a value tree.  Sellers should use their conversations with stakeholders to prune and shape each limb.
Time may mean speed of service for buyers at one level, operational inefficiency at a second and speed to market for others.  Risk may mean system or production errors or repair issues.  Money "limbs" can take the form of ROI, expense over-rides or unplanned training costs.  People values are everywhere—retaining talent, developing new skills, effective on-boarding of new recruits, reducing churn, improved work flow, etc.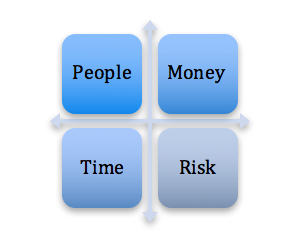 Identify Benefits.

Identify a broad spectrum of potential benefits including "soft benefits." While measureable benefits can be extremely helpful with the proper documentation, soft benefits may not appeal much to a technical buyer but may peak the interest of an executive.  Sellers should use conversations with their customers to determine what value claim creates the greatest traction.  Robert Kaplan & David Norton provided a framework for discovering overlooked tangible benefits in the book Strategy Maps: Converting Intangible Assets Into Tangible Outcomes.
Document Claims. Explore how current customers and users document product/solution value.  Sellers should schedule phone calls with current customers and ask, "What measureable benefit have you received from our product?"  It can be surprising to discover how customers prioritize, quantify and document value.
Customize Terminology. Tailor the value statements to resonate with each buying "persona." Phrase each value statement using the language of the buying organization and customer.  Sometimes customers will write their own value statement.  Listen carefully to their responses to questions.
Test Impact. Sellers should test their value propositions with coaches, current customers and members of the sales team. Is the message compelling?  Does it differentiate?  Does it convey urgency? Can the claim, pledge or promise be proven?
Four Recommendations for Refining a Value Message  
Don't try to compose a single sentence to serve as a value message. Put together several sentences that work well together.  In this way you can add or subtract elements as appropriate.  A value message is not a monologue—it's a brief ten to fifteen second statement meant to arouse interest.
Prepare yourself to answer questions and objections such as "What proof do you have?" "Who can attest to your claim?" "Don't your competitors have the same capability?"
Refine value messages periodically. A customer's needs change over time and so should the value messages.
Make sure all teammates are familiar and well rehearsed with the options for conveying value at different levels of the organization.
Parting Thoughts
Since many sales representatives sell the same product or services to similar buyers, sharing value propositions can save time and reduce errors.  It also can improve the on-boarding of new individuals.
Also, many sellers, irrespective of their product, service or solution, position themselves as consultants who assist their customers in overcoming a problem or capitalizing on an opportunity.  Consultants, however, face a different challenge in crafting a value proposition. Why? Because the seller/consultant is the product.
In sales it's their expertise, experience and market insight that matter. This is why it is so important to develop a compelling value proposition.  A sales professional's experience with enterprise-wide solutions, global implementations or migration to new service platforms can serve as a strong value framework that draws attention and interest from your customer and partners.
As always we welcome your thoughts and input. Let's start a discussion and elevate the sales profession with a thoughtful, civil and informative discourse.