There is a new type of medical facility that has begun to proliferate the healthcare landscape in the U.S. and they are called Micro-Hospitals. For some sales professionals, this will be a new call point and opportunity to provide sales and service. Think of these facilities as a bridge between free-standing Emergency Departments that do not offer all the required clinical services and full-service hospitals that offer a plethora of services that many people do not need. The acuity level of a micro-hospital is slightly less than a community hospital.
Micro-hospitals are small-scale inpatient facilities (thus the term micro) that operate 24/7/365 with eight to twelve inpatient beds for observation and short-stay use. Typically, they provide emergency department care along with imaging (X-Ray, CT scanning and Ultrasound), laboratory and pharmacy services (for inpatients only). Optional services may include outpatient surgery, primary care physician office offices, dietary and women's services. Surgical procedures can include orthopedic, plastic, ENT, GYN and podiatric surgery along with cardiac catheterizations.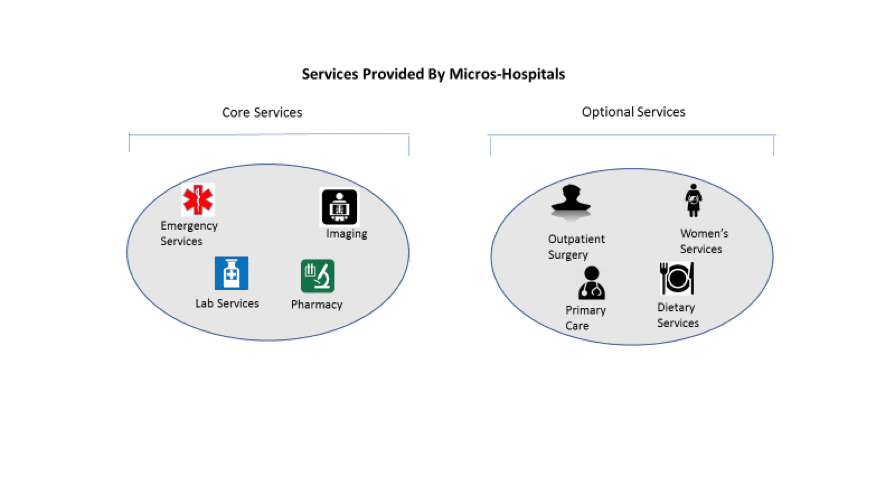 Typical Treatments Offered
Micro-hospitals treat the following typical illnesses and injuries in their facilities.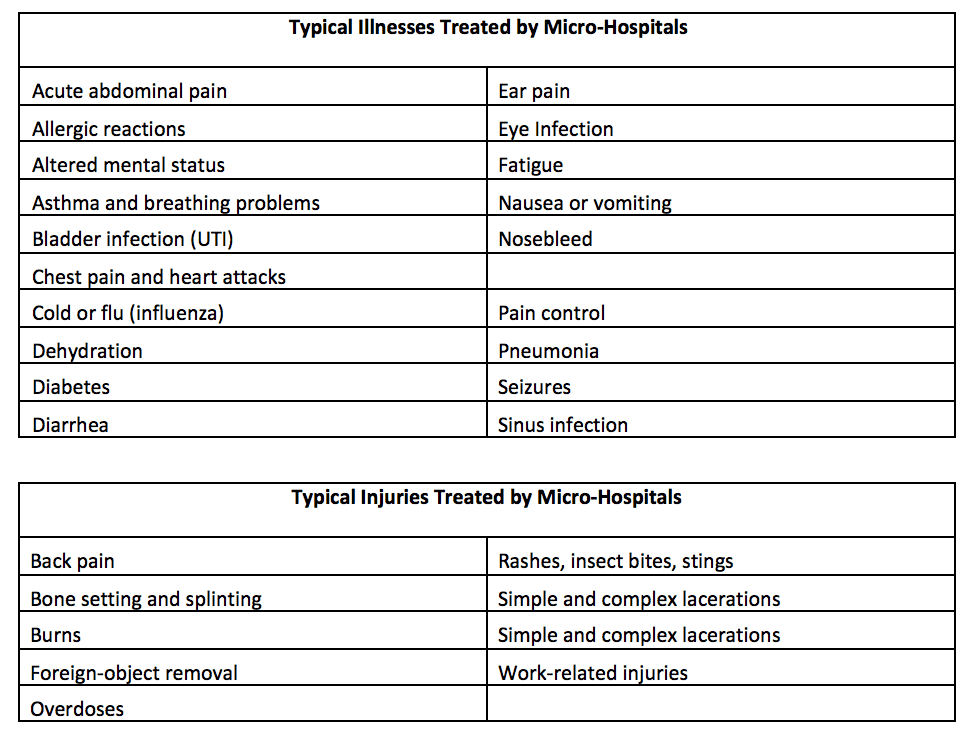 Sampling of Health Systems with Micro-Hospitals
Micro-hospitals are generally affiliated with larger health care systems that use these facilities as entry points into healthcare in markets where demand will not support a full-scale hospital. The following healthcare systems have existing or planned micro-hospitals.

A micro-hospital ensures patients have easy access to emergency care and diagnostic care that do not require a physician's referral. For patients, they offer the convenience of care that cannot be found in a health care clinic or urgent care center. No two micro-hospitals are the same in their design or service mix since they focus on the needs of the local community.
Rules & Regulation
Micro-hospitals are acute care facilities that must meet all the requirements for federal and state licensing and regulatory requirements in the state in which they are located. They are also subject to Certificate of Need (CON) requirements in those states that require it. The CON process includes an application that describes public need, financial feasibility, architectural design and contractual arrangements for the proposed facility. Thus far micro-hospitals have been built or are in the planning stages in states that do not require a CON such as California, Nevada, Arizona, Texas, Oklahoma, Missouri and Indiana.
Location
Micro-hospitals are ideal in urban or metro locations where there is a clear service gap in the community and adequate demand for their services. These are usually in smaller but fast-growing communities. It's also important they be located within 20 miles of a full-service hospital in case patients need to be transferred. This allows the micro-hospital to serve as a referral base to the full-service hospital.
Most micro-hospitals are typically built from the ground up as opposed to renovating an existing building. This allows for a better functional design that uses the space wisely, offers a pleasant patient experience and allows for integration with virtual medicine. The facilities range in size from 15,000 to 50,000 square feet and are usually two or three-story buildings.
At the end of 2016 there were at least 50 micro-hospitals operational in the U.S.
Billing
Micro-hospitals bill patients at the same rate as full-service hospitals which is a benefit because they have lower operating costs. They accept private insurance, Tricare, Medicare and Medicaid. Most micro-hospitals see 20-80 patients per day in their ED.
Development, Management and Operations
Thus far micro-hospitals are being developed, managed and operated by third-party management firms through joint venture agreements with health systems. The third-party management firms are:
Embree Asset Group in Georgetown Texas.
Adeptus Health in Lewisville Texas (ADPT)
Emerus Holdings in Woodlands Texas
Typical Lab & Imaging Tests Available in a Micro-Hospital
Shown in the table below are the typical lab & imaging tests available in a micro-hospital.

Parting Thoughts
For some sales professionals, micro-hospitals will provide an additional call point for sales and service. For consumers, these facilities offer convenience and local treatment options for the most common medical and surgical requirements. For health care systems, micro-hospitals offer local branding and consumer awareness, an expansion of their footprint and an entry point to a full-service hospital if required. Savvy sales professionals should improve their business acumen by understand this emerging care model.
As always, we welcome your thoughts and input. Let's start a discussion and elevate the sales profession with a thoughtful and informative discourse.
If you enjoyed this post, please share it with your social network and connect with us on:
Our Book- Selling to Hospitals & Healthcare Organizations: A Glossary of Business Acumen & Personnel is Available on Amazon, Create Space and Kindle
Photo courtesy of Google Images.