In every sale of a product or service to a hospital, there are two fundamental questions that must be answered. They are: Who Cares and Who Pays?
Who Cares is a list of all of the stakeholders that are involved in the purchase decision. Savvy sales professionals know that it's fundamental to make a comprehensive list of these individuals by developing a stakeholder wheel (sometimes called stakeholder mapping) or something similar. It's not enough to just list the personnel that you are comfortable talking to. You must list everyone that is relevant. This requires the seller to ask good questions.
Developing a stakeholder map is done to identify people, groups or institutions that will influence your sale either positively or negatively, which then allows you to develop appropriate strategies. Then the challenge is to understand the business results that they want to achieve while addressing their personal desires or fears about how the product or service will affect them.
Who Pays is often more difficult to determine but it's the one individual that authorizes the purchase of the product or service. It is the individual that provides the final yes and authorizes the expenditure of the funds.
During the entire buying process, sellers must be constantly reminded of three (3) unassailable facts.
First, hospitals and healthcare systems don't buy products. People do.
Second, people buy what the product will do and not the product itself. People buy results!
Third, people buy on their timeline and not yours. Hospital personnel do not care if it's your end of month, end of quarter or fiscal year end unless you are somehow sweetening the deal. With this thought in mind, sellers need to determine their sales approach:

If you lead and/or structure your sales approach based on company fiscal dynamics, Hospital Procurement personnel know you will be more willing to offer price reductions and/or other concessions. In essence, the onus will be on you to make it worth their while to buy on your timeline, not theirs.
If you lead and/or structure your sales approach based on the ability of your product or service (it reduces cost, provides significant return on investment, significantly enhances patient throughput or outcomes, addresses a hospitals pressing pain point, etc.), the sale may take longer and involve a broader array of call points in the hospital to galvanize all the needed data to verify outcomes. It will, however, minimize and/or negate many of the price and/or service concessions associated with the first approach.
Make no mistake about it; hospital personnel involved in major purchase decisions are very savvy. All of the stakeholders will view the purchasing decision through their own prism.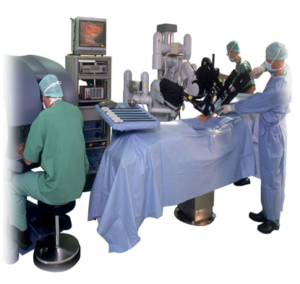 Here is a simple example of Who Cares & Who Pays! To the seller this is a da Vinci robot! To the hospital, this is not a da Vinci robot. Yes, I know it looks like one and the photo shows one.
Let's look at how the major stakeholders within the hospital could view this technology and some of their potential thoughts.
For the Patient… for some, it's space age technology that offers the hope of less pain, quicker recovery,
and a better clinical outcome. They believe this because it is what they have read on the web or been told by their surgeon. For others, the technology is a concern because it could fail or they have read about adverse affects. They would rather have the surgeon at the OR table and none of the fancy equipment.
For the Operating Room Director or Clinical Service Line Director …. it's technology that will impact the workflow and productivity of the department. In some cases, the results will be positive while in others it may actually lengthen each surgery and mean less throughput in that room. Savvy sellers will determine in advance who perceives this new technology as a benefit versus a liability.
For the Surgeon …. this is a method of improving the quality and precision of their work. It's also emotionally gratifying to them that the hospital will expend millions of dollars to provide them with the technology that they request.
For the OR nurses and scrub techs…. this is technology that is large, bulky and must be worked around. While they clearly see the clinical benefit to the patient, many may wonder how the hospital could afford this expensive technology when they are cutting nursing hours and salary increases are moderate or frozen.
For a Vice President of Procurement…. it's a major negotiation. They know they have to get the cost down significantly to look good to their boss. For them, failure to get a price reduction is not an option.
For the CFO…… it's a capital expenditure and a major investment in technology to drive revenue and market share by attracting new patients. Their job is to find the funds and prove the ROI.
For the CEO/COO…… it's an investment in technology to keep the physicians happy and improve patient outcomes. It's also a way to show the Governing Board that they are executing the vision and strategy of the hospital to be a technological leader in the community.
For the Governing Board ….its way of positioning the hospital as providing the latest in cutting edge technology for improving patient care.
Are these all of the stakeholders? No! They may also involve the President of the Medical Staff, a committee, other hospital personnel and third party influencers such as ECRI, MD Buyline, The Hayes Group, GPOs, IDNs or RPCs to list but a few.
Regardless of the number of people involved, it is the job of the sales professional to determine all of the internal and external people that are involved in the sale by using stakeholder mapping or some other method. This should then be followed by Value Messaging to ensure their value proposition resonates with each stakeholder.
Parting Thoughts
Failure to identify all of the stakeholders' leaves the door ajar to losing the sale because some unknown person swayed the others. Don't let this happen to you! Instead develop a comprehensive list of stakeholders and then prove your solution has measurable value to each of them utilizing a Value Map or equivalent. Then, on each subsequent sales call, ensure that they still see your product's value and verify that they still support your product's purchase until you get the order.
This article was originally published on our website on May 28, 2013. It is still as relevant today as it was then. This is the first time we have published it on LinkedIn as a post.
As always we welcome your thoughts and input. Let's start a discussion and elevate the sales profession with a thoughtful, civil and informative discourse.